We've been heading to Kendal for the Lakes International Comics Art Festival for a few years now. Our stand, thanks to the handy hands of Rich Skipworth, has become a wall of members' merchandise and cartoon prints. We always encourage members to attend and every year one or two new faces turn up and join in the fun. Noel Ford was due to be with us, so in some respects it was bittersweet, but he wouldn't have wanted us to mope about – Noel was all about the laughs. And laugh we did.
Highlights included a John Stilgoe fan going giddy over his Jack Russel cartoons, greyhounds galore as Rich Skipworth's fan-base descended for his new book and calender, two cracking evening meals, a new format AGM around a crowded table in Wetherspoons, and stumbling upon a late night speakeasy in a dark street!
The Towers of Power, courtesy of Rich Skipworth
Late Sunday afternoon we all raised a Kinnie and Cointreau to Noel – one of his favourite tipples.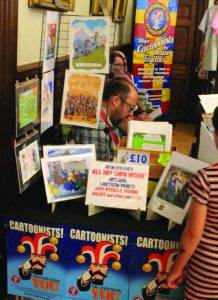 Simon Chadwick doodling something… Punter and daughter take in the 'toons.
Some of the many greyhound owners and dogs that came in, many of which (owners and dogs) were already wearing Skipworth merchandise.
A Rich Skipworth fan even found us at our AGM. She was lovely.
Above: Keri Johnson brought her friend. 
Tim Harries does some live drawing.
Simon Chadwick, Nikki Harries, Gill Skipworth and Anna Kane.
Chris Williams with possibly the world's greatest dessert.
Many of us gather for a Sunday evening meal at a fabulous restaurant recommended by Will Rudling.
We'll definitely be going back. Don't miss out – join us in Kendal next year!