By Tom Gauld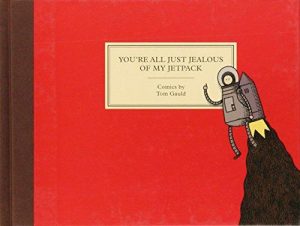 Publisher: Drawn & Quarterly
ISBN: 9781770461048
Cartoonists that are able to successfully encapsulate arts and literature elements, intellectual themes and slithers of the modern zeitgeist are few and far between, and yet not only is Tom Gauld one of those cartoonists but he also instils a brilliant sense of playfulness in his cartoons that celebrates rather then denigrates the subject matter. With a simple yet precise drawing style that's not a million miles away from Chris Ware, the overall package is one of neat, beautifully presented gags unburdened by political overtones, flabby exposition or unnecessary detail.
Cartoonists use popular culture as the basis for gags all the time, but rarely will you come across Lost Scenes From Quadrophenia, a crime fighting Charles Dickens and his Dickensmobile, or the Mars Rover writing poetry as you do here.
Here are few of my favourites: Large single panel with a scientist clutching a clipboard entering stage left while a disembodied head floats above a foot. "How's your invisibility serum coming along?" asks the scientist. "Almost there," comes the reply. Or there's a super-high tech Institute of Neologism building connected to a mundane Department of Everyday Language which in turn has a passage to a Gothic-style Society For The Preservation Of Antiquated Terminology which opens out onto a bleak Cemetery of Forgotten Words. A genius idea realised in such an effortless manner.
Gauld's not afraid to embrace science-fiction and fantasy too, such as in the strip entitled The Unorphaned Children's Book Heroine, where the fantasy figures seek Sally to come and defeat the Witch-Queen but Sally's mother insists not until she's eaten her broccoli, with the final panel of Sally staring forlornly out of the window.
Or how about, at a time when we've got reviews of a mixed-reality production of The Tempest in the news, an unwittingly topical Season Of Innovative Shakespeare Productions, featuring the likes of Toddler Coriolanus, Action Hamlet and Skype Romeo & Juliet.
You're All Just Jealous Of My Jetpack is broad, clever, and really rather funny too. And I'd imagine it would make an excellent Christmas pressie.
And if you liked that: Take a look at Gauld's Mooncop