By Henriet & Callède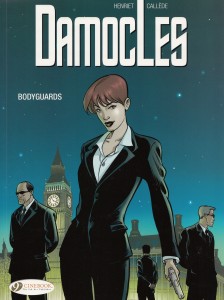 Publisher: Cinebook
ISBN: 9781849182324
The Damocles Agency offers protection for wealthy clients in the same way many other security operations work, except they have an additional edge. Their operatives use a special drug called Blitz, tailored to their individual bodies, that gives them additional enhanced abilities when working in the field, and thus not the kind of people a potential troublemaker would want to deal with. Unfortunately, this doesn't stop everyone from trying.
Set in London in the near future, the book opens with a demonstration of their worth when a client they're looking after becomes the victim of a failed kidnapping, something they'd have achieved if not for the Damocles agents. It gives us a brief insight into the personalities of Walter, Sean and Ellie as they go about their day-to-day jobs and we get to experience the efficiency of Blitz at work. But this is just a taster for a greater problem that the team must tackle as they take on the protection of the young adult son of a rich businessman who is being threatened by anti-capitalists. It seems a straight-forward assignment at first, but something murkier is bubbling underneath.
It's an interesting concept for a story, especially in these times of austerity the widening disparity between rich and poor, but this isn't a tale about the rich being vulnerable from the evil grasping hands of the not-so-well-off. The creators are careful to paint the agents of Damocles as those performing a paid service and although they're professional about their undertakings they're very much not part of the elite. Henriet and Callède do their best to put some meat on the bones of their characters too, but it's a finite book with lots going on, so the only character that really gets to shine in this opening volume is Ellie, and of the four-strong team she's a good choice to focus on. Also, it should be pointed out that Blitz doesn't turn them into cape-wearing superheroes or X-Men security guards – it appears to simply enhance reactions and strength to a degree that doesn't involve ripped shirts over bulging torsos.
It's a promising opener for this new series, and neatly sets up your interest for the next book. Cinebook pegs this as suitable for 12+, so any kids interested in a bit of Young Bond or Alex Rider should find this worth taking a look at.
And if you liked that: Volume 2 is out now