By Batem, Yann & Franquin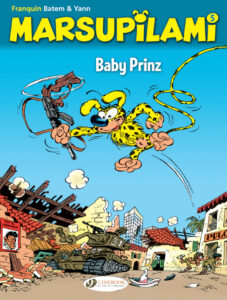 Publisher: Cinebook
ISBN: 9781849185424
I read this the day after the attempted insurrection in Washington DC. Bearing in mind the book concerns a coup it gave the whole story an oddly obtuse slant.
In Chiquito, capital of Palombia, there's a zoo, and in that zoo is an ancient Marsupilami. No longer eating, the zoo officials are convinced his days are numbered. What they don't count on is a pallid macaw escaping from a nearby enclosure into the surrounding jungle. It brings word to Bip and Sarah, two children who have gone full Greystoke, and who have happened to befriend the younger Marsupilami we all know. Fortunately, the macaw can talk, and eloquently at that, so the trio learns of the impending demise at the zoo. The macaw explains they'll be able to slip into the capital unnoticed as the following day is the anniversary of the coup that put Papa Prinz in charge of the country. His son, Baby Prinz, now rules, and there will be celebrations and fancy dress.
Naturally, it's not that simple when the time comes. One of the nation's traditions is to celebrate the coup attempt with an attempted assassination of the ruling dictator. When that doesn't go well the crowd storm the palace, Baby Prinz is forced to escape (via the zoo), and the children and the Marsupilami are caught up in the middle of it all.
Creating a humorous depiction of a fictitious dictatorship offers lots of comic potential but, in light of the Washington DC debacle, you can't help but notice the darker brushstrokes. Initially, it did make me wonder if this was suitable fare for a younger audience, but that wouldn't be right. After all, we don't ban Guy Fawkes in the UK, or pretend that 1066 didn't happen when it comes to teaching history. These are topics that should be talked about and understood, and the great thing about comics and cartoons is that those topics can be introduced and explored. It'll surely pass over the heads of most young readers just who Papa Prinz and Baby Prinz are named after, and the comedy violence is no more outrageous than a tale about organised crime or spies. So anyone concerned can rest easy.
Furthermore, this is ultimately a story about friendship, about helping others, and about family. The selfless actions of the three friends in helping the Marsupilami elder are commendable values to look up to, and the way in which we perceive the elder has a lot to say about our preconceived ideas about the elderly. The beating heart of this story is altruism and thoughtfulness, with a generous dose of humour to keep it all flowing. Those are values we should all be getting behind.
And if you liked that: Volume 6 is one its way – looking forward to it