Training Update 04 December
Huge thanks to all the club members who have donated – I'm at 80% of my target with £340 which is fantastic.
I'll keep updating my JustGiving page regularly for those who want to track my progress.
My latest updates can be found at
https://www.justgiving.com/fundraising/timharries
Cheers all
Tim
Training Update 09 November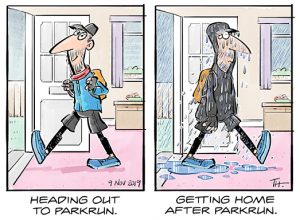 Once again thanks for the donations I've received this week – we're well on the way to hitting the target.
Here's a short update as promised. (You can read previous ones at https://www.justgiving.com/fundraising/timharries )
Today saw another glorious parkrun (the lower case p is how it's written, apparently.) in sunny Newport. I knew I'd get a bit wet, so packed a bag with spare top, inflatable lifeboat (not true) and waterproof mac for my walk home. Turns out that was a good idea due to 'a bit wet' turning into 'completely drenched'. Got a PB though, which made the soggy pants worth it.
Training is continuing well – a few runs outside this week including a night time session with a headlamp. I'll talk more about that in a future update.
Tim
_______________________________________________________________
While it has long been recognised in the club that member Tim harries does not do anything by half, he has officially surpassed anything we might have imagined.
In 202o Tim will be taking part in the 'Race to The Stones' – a 100km (62miles) endurance event along the oldest path in Britain, The Ridgeway, and finishing at the iconic Avebury Stone Circle. Along the way Tim will be raising funds for Cancer Research UK, saying that:
"I'm sure we all have friends and family who have been affected by cancer in one way or another. Whatever funds we can raise will go towards saving lives through research. I think that's worth a few blisters and sore legs on my part."
With our recent loss of our Chairman Noel Ford through this horrible disease, we are sure it's a cause we can all get behind. if you feel that you would like to contribute and sponsor Tim in his efforts, you can find his Just Giving page at:
https://www.justgiving.com/fundraising/timharries
Tim has started doing cartoon updates on his training on the member forum so motivtional support and first aid blister advice through the forum is also welcome.
Regardless I hope you will all join us and wish him every success in his endeavour.