By Dany & Van Hamme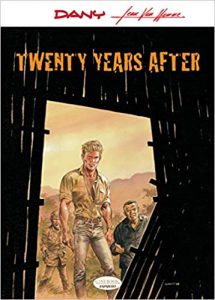 Publisher: Cinebook
ISBN: 9781849184151
In this follow up book to Story Without A Hero the timeframe jumps two decades. The survivors of the air crash in the jungle made good with their improvised hot air balloon escape and are now living separate lives, not least Laurent who has grown to be a successful businessman with a loving family of his own. Flying home in his company helicopter he is spectacularly kidnapped while flying over a lake leaving his family and the broader outside world believing he has died in the crash. 
But it is no sinister syndicate that has taken him but the intelligence service of the French police. They are aware that other survivors of the fateful air crash twenty years ago have gone missing, died in mysterious circumstances, or have had attempts on their lives, and so now they want Laurent to assist them. Specifically, they want him to return to the crash site and retrieve a case buried with one of the passengers which they believe holds evidence against a nazi war criminal. It's for this information that the intelligence service thinks people are dying in order to keep it a secret.
But finding the crash site in a distant and exceedingly vast jungle is another thing altogether, and a task that may be beyond a reluctant Laurent.
Van Hamme's writing skills mean you can read either of the two books as separate entities or enjoy them as a pair (naturally, do the latter). This follow up tale is an interesting experiment in utilising such a lengthy time jump and employs Van Hamme's penchant for shifting his storytelling to different countries and cultures to further the narrative. Always an outward looking writer this gives his stories so much additional colour, and it's always interesting how his artistic collaborators tackle these challenges.
Twenty Years Later pulls a few twists along the way and there are some surprises, nods to the previous book and a satisfying conclusion to boot. Another welcome addition to the Van Hamme collection.
And if you liked that: You'll certainly enjoy Largo Winch