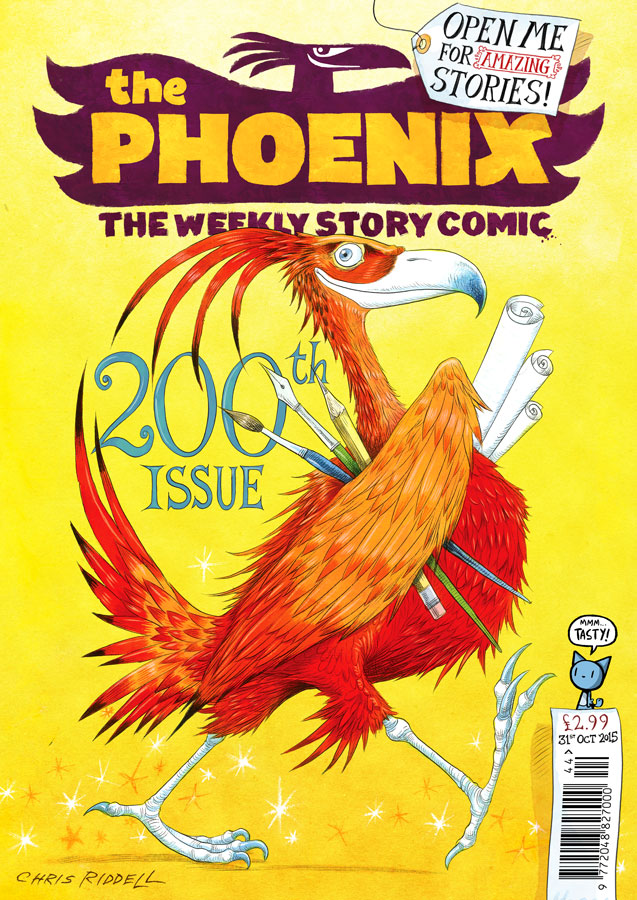 The weekly British children's comic, The Phoenix, celebrates its 200th issue on October 30, 2015, becoming the first independent weekly comic in the UK to reach such a milestone since 1969.
Launched in 2012, and rated 'the second best comic in the world' by Time Magazine, The Phoenix has gathered an army of fans across the nation and a string of celebrity endorsements from Britain's best-loved children's writers, including Philip Pullman, Michael Morpurgo,  Jacqueline Wilson, Malorie Blackman and Frank Cottrell Boyce.
The celebrations will include an array of exciting new comic strips, exclusive strips from young Phoenix readers, new partnerships, and involvement from the most celebrated names in British publishing. The bicentenary issue will feature an exclusive front cover created by Children's Laureate, Chris Riddell and a trail for a new strip launching in 2016 called Philip Pullman's John Blake by Philip Pullman and Fred Fordham.
Alongside established favourites like Mega Robo Bros by Neill Cameron, The Adventures of Von Doogan by Lorenzo Etherington, Corpse Talk by Adam Murphy and Evil Emperor Penguin by Laura Ellen Anderson, Issue 200 of The Phoenix will feature two new series; a new action comedy called Battle Suit Bea about a girl who finds a robot-suit from Bunny Vs Monkey artist Jamie Smart; St. Georgia and the Ends of the World by Robin Boyden, a story set in a medieval world  and featuring Georgia, a genius inventor girl plus two exclusive strips from young Phoenix readers, Jordan Vigay, 14 and Jonny Toons, 11 who are already creating their own comics inspired by The Phoenix.
Their involvement will launch a new Phoenix Search for a Star competition where a young Phoenix reader will see their story published in the magazine in early 2016. Entries are open from Issue 200 and will close by the end of November. Further information will be available on www.thephoenixcomic.co.uk.
Tom Fickling, Editor of The Phoenix says:
"One of the most important things to us at The Phoenix is to encourage children to use their imaginations to create their own comic stories. Jordan and Jonny are both young talents who have a passion for making comics and I've lost count of the amazing number of things they've sent in or shown me. Issue 200 is a chance for us to support them and inspire other children to get creating!"
This issue also sees The Phoenix being stocked in WH Smith for the first time and the launch of a loyalty scheme for those children who buy the comic weekly from independent booksellers.
The Phoenix is also delighted to announce a new partnership with children's charity READATHON, which encourages millions of children to read and raises money for children in hospital through its sponsored reading event in schools. Copies of The Phoenix will be inserted into Readathon schools kits with special subscription rates and a free prize draw that will include comic workshops and goody bags of Phoenix Presents books titles. In addition, The Phoenix will announce a designated comic artist who will take the Readathon in Residence role working with children in a hospital for one year. Readathon encourages children to read for fun through sponsored reads in schools. The money raised is then used to give books and stories to children in hospital.
Readathon also gives schools free resources with everything necessary to run a brilliantly successful sponsored read and provides children's hospitals with storyteller visits and a mobile bookcase that is stocked with new books every six weeks. Some 3,000 schools, reaching 750,000 children, get involved in Readathon every year.
For further information visit www.readathon.org.uk