A major selling exhibition of 300 cartoons and illustrations showcasing the best of American cartoon art from the last 100 Years is to be hosted by the Chris Beetles Gallery.
This will be the first exhibition in the UK to show the parallel tradition of Cartoon America in all it's variety, from the wide-ranging satirical cartoons of the Reagan to Obama years, from the sharp pens of Pat Oliphant and Kal, to the classic gag cartoons of The New Yorker from Peter Arno to Edward Koren and Ed Sorel.
All the favourite characters and artists on display are fixed in the memory of a shared visual culture; Snoopy (CHARLES SCHULZ – 1922-2000), Popeye (BUD SAGENDORF – 1915-1994), Captain and the Kids (RUDOLPH DIRKS – 1877-1968), Smokey Stover (BILL HOLMAN – 1903-1987), and Disney characters ; Captain Hook (WOLFGANG REITHERMAN – 1909-1985) and The Wicked Witch from Snow White (NORM FERGUSON – 1902-1957).
To help us celebrate the first week of the show, three of the greatest artists in the history of American Cartoon Art have flown over specially from New York:
PAT OLIPHANT – America's greatest post-war political cartoonist, and recognised as the Godfather of political cartooning in the United States;
ARNOLD ROTH – New York's greatest graphic humourist and Punch magazine's monthly 'Report from America' from 1965-1988;
EDWARD KOREN – currently The New Yorker magazine's most loved cartoonist.
The exhibition will be officially opened by filmmaker and Monty Python cartoonist, TERRY GILLIAM.
300 original works from 30 artists including: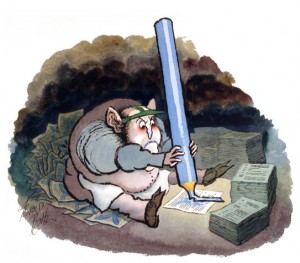 Charles Addams • Peter Arno • Ludwig Bemelmans • Simon Bond • Whitney Darrow • Rudolph Dirks • Disney Studio • Jules Feiffer • Norm Ferguson • Charles Dana Gibson  Al Hirschfeld • Bill Holman • Kevin Kallagher • Reamer Keller • Edward Koren • David Levine • Fred Moore • Pat Oliphant • Wolfgang Reitherman • Arnold Roth • Bud Sagendorf • Charles Schulz • Ronald Searle • Edward Sorel • William Steig.
 A selection of relevant images borrowed from the Jeffrey Archer Political Cartoon Collection will be hanging in the exhibition.
View the exhibition online now at www.chrisbeetles.com
The exhibition will run from from Tuesday 5 – 30 May 2015 from 10am – 5.30pm at:
Chris Beetles Gallery
8 & 10 Ryder Street
St James's
London SW1Y 6QB
020 7839 7551
gallery@chrisbeetles.com
www.chrisbeetles.com