Festival Countdown Continues!
Things have been busy for organisers at the Lakes International Comic Arts Festival, with the Full Programme for our weekend in October – crammed with British and international guests! You can find the programme on the festival website.
All guests have now been announced, the free Comics Clock Tower is rammed to the rafters… and a number of book launches at the Festival have been confirmed. As usual, there's a great exhibitions line-up.
Over 50 local businesses have joined in with this year's Windows Trail, so expect Kendal to even more awash with comics art than ever before. The free Family Zone promises to busy, thanks to artists who include ILYA, Marc Jackson and Sally Kindberg.
Comics Close Up
There will be plenty of amazing panels for you to enjoy throughout the weekend, all admission covered by the Weekend Pass, but if you're looking for even more in-depth discussion of comics, check out the programme for the Comics Up Close on Friday. It's a day packed with new and exciting perspectives on comic art, which includes a panel with award-winning graphic novelist, comics creator, writer, illustrator, editorial gun-for-hire and UK Comics Laureate Hannah Berry, and more.
Character World Record Challenge
The weekend proper kicks off with a Friday night VIZ-inspired 150 Character World Record Challenge, which should be a lot of fun! To celebrate the 40th anniversary of VIZ, Simon Thorp, Graham Dury, Steve McGarry and Luke McGarry are going to attempt to set a world record for drawing all 150 VIZ characters in 50 minutes.
Will they do it? There's only one place to find out!
It's your club – join us there
As usual, The CCGB will have representation at the festival. We will have the club stand in the exhibition at the Clock Tower as usual, festooned with Rich Skipworth's amazing towers of power. Its's a great opportunity for showing and selling members' merchandise.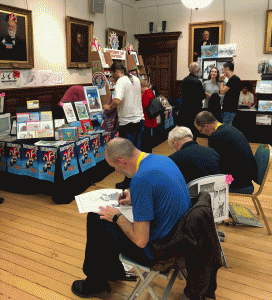 Club members Tim Harries, Noel Ford and Rich Skipworth live drawing during a rare quiet moment at LICAF 2018, Kendal.
We will also be holding our club AGM over the festival weekend – look out for more in the Jester and on the members' forum on the club website.
As if that wasn't enough, there will be the usual socialising and being merry with other club members. It's a great chance to connect and it would be brilliant to see you there.
(Remember, you can contact our events organiser, Anna Kane if you'd like a buddy to meet you to help break the ice with everyone if you are there on your own.)­­­­
So, book your tickets and don't miss out!
Buy your tickets at www.comicartfestival.com/buy-tickets