Beano Time Travellers!
Mottisfont, Hampshire 20 July – Sunday 8 September 2019
This summer much-loved Beano characters are setting up home at the National Trust's Mottisfont in Hampshire, for a vibrant new exhibition exploring 80 years of mischief and mayhem.
From black-and-red beginnings to the full-colour capers of today, Beano Time Travellers! explores the heritage of the longest running children's comic in Britain. Outside, kids can whizz back through Mottisfont's past with their favourite Beanotown residents in a bespoke trail.
In the National Trust property's gallery, you'll find rooms dedicated to some of Beano's most famous characters. Mottisfont's exhibition includes the original artwork for the first Minnie the Minx comic, which has never been shown publically before. You'll find out how Minnie was created as well as see work from two of her current illustrators, Nigel Parkinson and Laura Howell.
A unique highlight of the show is Mottisfont's immortalisation in comic strip form. A giant frieze on the walls of the property's visitor reception building reveals what happens when Beano kids create a time machine during a school trip to the former medieval priory. Families can re-enact the story on Mottisfont's outdoor trail.
Dennis and his best friend Gnasher take centre stage in the exhibition too, with artworks showing how the characters' designs have developed from the 1950s to the present day. The exhibition explores iconic moments which have firmly fixed these characters into the public consciousness, such as 'the great gnational gnasher search' in the 1980s.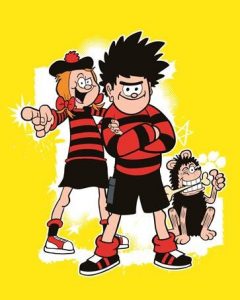 The exhibition also takes visitors 'back to school' with comics and artworks featuring the Bash Street Kids.
On show will be colourful covers and special editions, showing the timeline of Beano from its first beginnings up to the present day; from Second World War stories to commentary on modern celebrity culture.
It's an exhibition for all ages, with labels for children and adults throughout. The show reveals fascinating insights into the comic-making process, from initial artist's sketches to final prints. For the collectors, there's vintage merchandise including a Beano bicycle and a pair of decorated Doc Martens. There'll be photo opportunities too, dressing up and comics to read.
In the garden, families can set out on the Beano Time Travellers trail, designed by the comic. Join the Bash Street Kids, Dennis and Gnasher, and Minnie the Minx on an exciting interactive adventure. The notorious characters are on a school trip to Mottisfont and create a time machine to experience some of the National Trust property's 800 year-old history for themselves, but it breaks down, scattering pieces throughout the grounds. Help the characters hunt the gardens to piece it back together so they can return to the 21st century.
Jolif Guest, Visitor Experience Officer at Mottisfont: "It's been so much fun developing this summer's exhibition and trail. Thanks to Beano's amazing archives, we've been able to pull out all the stops to create our most exciting show to-date. We're really looking forward to sharing the fun with our visitors – they'll be transported right into the heart of Beano's world of mischief and mayhem."
There's a unique opportunity for children to create their very own comic strip too, using a specially designed Beano template. Designs can be entered into a competition to win a very special Beano prize.
Louise Govier, General Manager of Mottisfont: "We're all very excited about having Beano here this summer; it's a joyful part of so many people's childhoods. Mottisfont is the perfect place to show work from Beano's archive, and I love that we'll have our own comic strip where the characters help families to explore our history in such an engaging way Mottisfont is a very playful place, from the visual trickery of the Whistler Room to the surprises such as the mosaic angel half-hidden around the property, so it feels just right for us. We are looking forward to a summer of mischief and fun!"
Mike Stirling, Editorial Director of Beano Studios: "From the first edition to the present day, the art of fun has always been the most important factor of Beano. We can't wait for fans of all ages to explore the comic's heritage, and its history of imagination and rebellion, in such a renowned artistic property as Mottisfont."
Beano Time Travellers! will be on display from Saturday 20 July – Sunday 8 September 2019. Mottisfont's gallery opens at 11am and closes at 5pm. Normal property admission price only, free for National Trust members. For visitors unable to access the second floor gallery, Mottisfont has digital versions of exhibitions on iPads, which are available on lower levels.
More Information
For more information about the exhibition:
Call 01794 340757.
For more information about Mottisfont visit www.nationaltrust.org.uk/mottisfont.
Images © Beano Studios