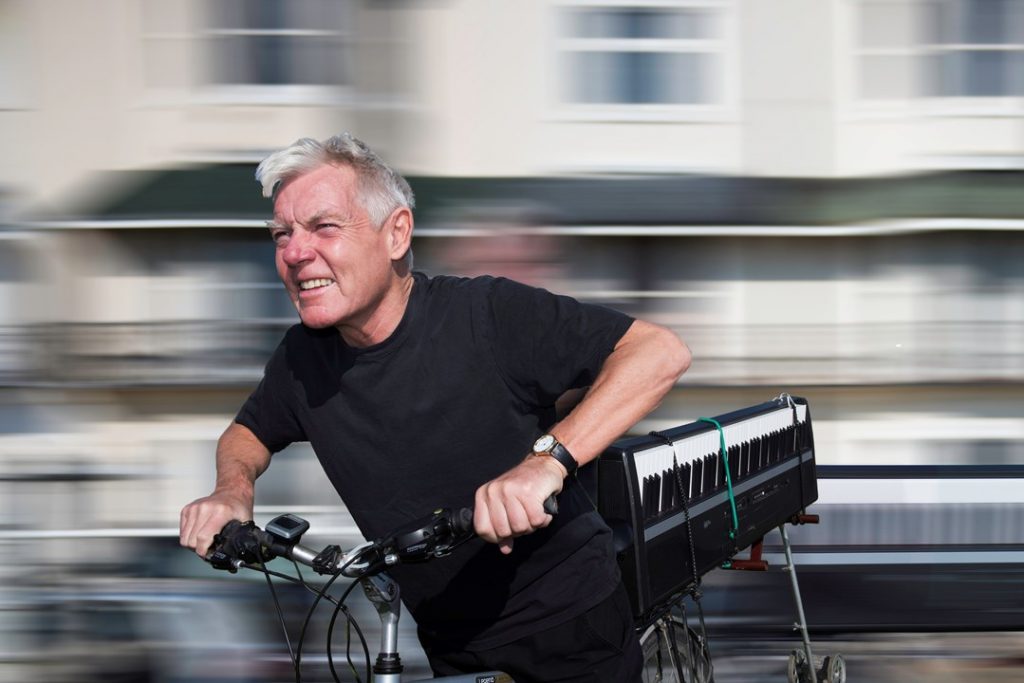 This Summer Cartoonists' Club member, ex-Dankworth pianist and former MD for Matt Monro, Mike Hatchard decided to celebrate his sixtieth birthday by cycling from Land's End to John O'Groats the long way (via Kent). Furthermore, he decided to take his electric piano with him (on a trailer) and performed over fifty concerts in a variety of venues ranging from theatres to pubs, churches to village halls, bookshops to art galleries, village greens to beaches and even a wineshop.
As a result of this slightly insane venture so far about seven thousand pounds has been raised for BBC Children in Need – and even now donations are still coming in.
On November 11th Mike is planning yet one more fundraising bash, also for Children in Need. This time he intends to perform Five Concerts in a day by bicycle.
The plan is to start at Shoreham By Sea with a 10am concert in the Ropetackle Theatre,
cycle to Brighton for a lunchtime concert in St. Nicholas's Church,
on to Rottingdean for an early afternoon gig (2pm) in a pub
and then on to Bexhill Manor Barn for an early evening gig (7pm)
followed by a later one at the Bella Vista Restaurant in Hastings (9.30pm).
In all about forty five miles cycling (towing the piano) and about eight hours performing (not bad for a man just turned sixty!). ALL money raised from this venture will go to Children in Need.
Various musicians have come forward agreeing to perform with him on the day including The Jazz Project Big Band, Mark Ramsden, Pete Prescott, Gary Bland and Charlotte Glasson – watch this space.
http://www.crowdfunder.co.uk/cycling-from-lands-end-to-john-ogroats-the-cd