Sini Majuri. Tales on Glass exhibition, London
Sini Majuri
is a cartoonist & glass artist from Helsinki, Finland, who creates beautifully crafted comic stories inside blown glass using a 100 years old 'graal' technique mixed with modern 3D design. Her first exhibition in London opens at the Parallax Arts Fair being held at Chelsea Town Hall, King's Road, Chelsea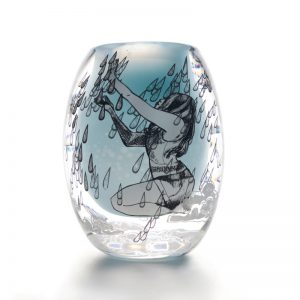 on 22nd July. After her London show, she will take the exhibition to New York, Venice, Budapest, Wroclaw, Frankfurt, Helsinki and New Mexico.
Tales on Glass is a surrealistic comic story, the logic of dreams being the main inspiration for the narrative, and every sculpture is a scene from the story. The tale is about an animal that travels inside our dreams and bends time, until the dream lasts forever. There is always something hidden in each glass sculpture: Secrets that are revealed only when seen from the right angle through the glass material.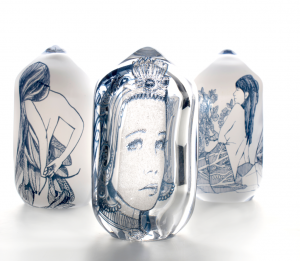 Sini studied glass art in Aalto University, Helsinki, and the University of Lapland. In 2016, she represented Finland in the European Glass Festival held in Wroclaw, the European Capital Of Culture 2016, her glass cartoons have been published in many international contemporary art magazines, and she has received a number of awards.
She lives and works in Helsinki, where she gathers much of her inspiration from old Scandinavian fairytales and beliefs.
Sini Majuri. Tales on Glass exhibition. London
Parallax Art fair, Chelsea Town Hall, King's Road, London, 22 July, 2016 – 24 July, 2016