The CCGB Malta Minicon for 2016 will soon be here and it has proved as popular as ever!
So much so that we are almost fully booked! We reserved a number of rooms at the lovely Pergola Hotel & Spa and they have now been filled. BUT….there may well be some non-reserved accommodation available, so if you'd like to come and join us, get in touch and we'll check availability of accommodation and get back to you right away.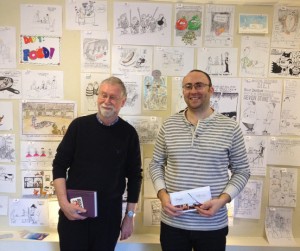 There will once again be a large amount of cartooning! There will be cartoon competitions! With prizes! There will be trips out! There will be cartoon workshops! There will be demos! There will be discussion of such engrossing topics as technique, clients, how to get into cartooning, how to draw funny, and there will be a large amount of larking about!
What's that you say? You have questions? And you want answers? Very well then… here is all you need to know about Malta Minicon 5 >