Some of the brightest and boldest comic artists have teamed up once again to create a second issue of Moose Kid Comics, hoping to help reinvigorate children's comics!
Issue two of Moose Kid Comics – available from today via www.moosekidcomics.com – is another glorious 36-page, free to read, digital children's comic featuring nearly 40 of the best comic creators working today, from Eisner-nominees to webcomic stars.
Each creator is given complete freedom to write and draw whatever characters they want, and that creative freedom bursts through from every page. From crime-fighting tigers to child barbarians, farting unicorns and vegetable best friends, Moose Kid Comics issue 2 has it all!
Moose Kid Comics launched their first issue in the summer of 2014, winning a lot of attention for its vibrant mix of funny characters and ridiculous stories. Brought together and edited by Jamie Smart, known for his work on The Beano, The Dandy and The Phoenix, Moose Kid Comics aims to retain the quality and anarchy of past comic titles like Oink! and Whizzer And Chips, while packaging it all up with the humour and silliness of Nickleodeon or Cartoon Network.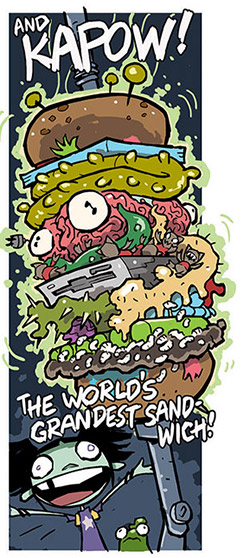 "There was a definite demand for more Moose Kid Comics," Jamie says. "From parents, children, comic artists, even publishers, everyone wanted issue one to succeed and continue. The goodwill towards it really showed that people want more children's comics in the world."
"Our main advantage was that we didn't have any budgets, any distribution, any demographics. Every artist contributes their work, and the whole thing is released online for free. As a result, we don't have to worry about who we're appealing to or how it's going to sell, we just have to make the most fun comics we can, and that's how you get the best results."
"Moose Kid Comics is called all-ages because it is just that – kids love it as much as experienced comic readers do. We made the best comic we could, and now we've come back to do it again."
The result is Moose Kid Comics issue 2, and it's available along with issue 1 as a digital comic, worldwide, via www.moosekidcomics.com.
"I was excited to get so many of the issue 1 artists back into issue 2," Jamie explains. "So we have Laura Howell, Will Kirkby, Rachael Smith, Gary Northfield and one of my personal heroes, Tom Paterson, to name but a few! But we wanted to add some new names in here too. Jonathan Edwards and Feltmistress created a photo comic for us with their character Tippy, and our youngest artist is 15-year old Aisyah Stevens, who I met last year at the live Moose Kid Comics workshop at the Cartoon Museum. She showed me her work and it was so funny, I knew we had to get her involved."
"And, of course, in issue two we're excited to once again be continuing the adventures of Young Tank Girl, by Alan Martin and Warwick Johnson-Cadwell themselves!"
And as for the future of Moose Kid Comics?
"Moose Kid was set up as a call of arms, a showcase for what artists could do, given the creative freedom. To play around with their own characters in one big 36-page playground. I think it's really important to keep this going, to have that showcase, and to keep talking about what we can do to raise children's comics up into public view, especially here in the UK.
"So, while we might take a little time to put these issues together – currently it's one a year – we certainly want to keep the momentum going. We have plans for other, extra Moose Kid things we can do alongside, it'll be really exciting if they come to fruition too.
"The enthusiasm from both the artists and the readers really speaks volumes about how we're on the right track, and certainly makes me want to keep going bigger and better every time."

The full list of comic creators involved in Moose Kid Comics issue 2:
Tom Plant, Andreas Schuster, Jess Bradley, Mark Stafford, Gary Northfield, Aaron Alexovich, James Downing, Aaron Blecha, Steve Tillotson, Hamish Steele, Chris Garbutt, Dan Gaynor, Rick Eades, Mike Pearse, Viviane Schwarz, Laura Howell, Alan Martin, Warwick Johnson-Cadwell, Lindsey Lea, Stephen Waller, Samantha Davies, Alan Ryan, Rachael Smith, Matt Baxter, Andrew Waugh, Joe List, Tom Paterson, Rikke Asbjorn, Roger Langridge, Vincent Woodcock, Will Kirkby, Wilbur Dawbarn, Jonathan Edwards, Feltmistress, Aisyah Stevens, Alexander Matthews, Emily Kimbell, Rianne Rowlands, James Lawrence, Craig Knowles, Jamie Smart