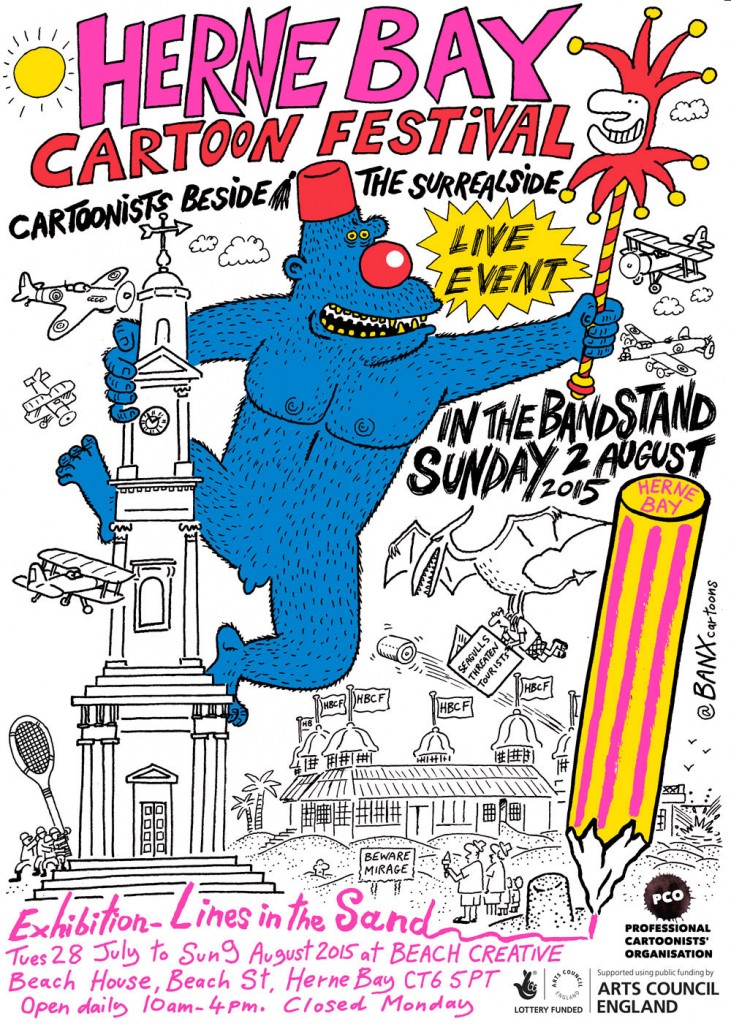 The third Herne Bay Cartoon Festival is under way and will feature an exhibition by many CCGB members as well as show in tribute to the late Martin Honeysett and a timely exhibition about cartoons that have caused offence over the past 200 years.
Sunday 2 August will see more than 20 cartoonists descending on in the Bandstand at the Kent seaside town. From 12-5pm there will be big board cartoons, caricatures, a chance for the public to display their drawing skills, and a few surprises.
The exhibition Outrage! A brief history of offensive cartoons kicked off the festival. It is now on at the Seaside Museum (12 William Street, open Tues-Sun, 10am-4pm. Until 16 Aug).
It includes works from the British Cartoon Archive in Canterbury and features cartoons by David Low, the infamous Oz schoolkids' edition, Donald McGill saucy postcards that were considered too rude and some chilling cartoons featuring a wife-beating Andy Capp.There is also a never-before-seen Ralph Steadman, his response to the Charlie Hebdo massacre.
The main exhibition of current cartoons, Lines in the Sand, opens at the Beach Creative gallery next week (28 July- 9 Aug, Tues-Sat 10am-4pm and Sun 11am-3pm.). It will also feature reactions to Charlie Hebdo, many featured in the new book Draw the Line Here, plus as usual there will be cartoons on the subject of the seaside and surrealism.
This year's event builds on the success of the first one, when it was part of a celebration of Marcel Duchamp's links to the town, and last year's standalone Cartoonists Beside the Surrealside. It is sponsored by the Professional Cartoonists Organisation and supported using public funding by Arts Council England.
There will also be an exhibition of cartoons by the late Martin Honeysett, who exhibited and appeared at the first two Herne Bay events (Bay Art Gallery, William Street, from 28 July. Open Tues-Sun 10am-4pm).
CCGB member Tim Harries will be hosting cartoon workshops at Beach Creative on the Saturday – from 11-12.30 and 3-4.30pm – as well as in the Bandstand on the Sunday.
Jeremy Banx, the Financial Times cartoonist, is going to festoon the Bandstand and seafront with giant cartoon flags, flying from every pole he can find. They're being billed as the biggest seaside postcards the world has ever seen!
There will be live music throughout the afternoon at the Bandstand, provided by Daylight Saving and the Jazz Police.