By Bryan Talbot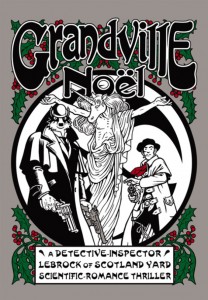 Publisher: Jonathan Cape
ISBN: 9780224098069
The burly and brusque Detective Inspector LeBrock is back, upholding the law on behalf of his fellow citizens on both sides of the Channel. In Grandville: Noël, the investigative badger is attempting to track down the niece of his housekeeper, a mystery that leads him to a religious cult that is taking full advantage of its converts. Already responsible for a slaughter of its followers in the United States, the cult has now established itself in Paris and aims to achieve much more than just swiping the valuables of a few dozen acolytes. They're now also preaching intolerance and hatred of the doughfaces (humans), stirring up racial hatred to achieve their wider political goals.
LeBrock travels to Paris without his trusty sidekick Ratzi, but help is still at hand in the form of Chance Lucas, a sharp-shooting Pinkerton Detective Agency employee who bears an uncanny resemblance to a rather famous comic creation by Morris (also keep 'em peeled for an analogy of a pair of doughfaced Gauls). It's LeBrock and Lucas's task to peel apart the secrets of a religious conspiracy, save a girl from the cult, and bring some sort of justice to the proceedings before violence and bigotry take hold.
Talbot is both a skilled writer as well as a talented artist, and he's not afraid to take his story down darker roads or use more challenging material to flesh out his story. Here he touches upon religious indoctrination, race hate, political manoeuvring, extremism, racketeering and prostitution with makes for a dark undercurrent to the story, and keeps you guessing as to the intent of the tale and its final destination, making for an utterly engrossing thriller throughout.
We get a little more context and understanding as to why there are anthropomorphic animals dominating the world, but nothing huge is given away, and it does set up some mythical creatures too, such as the cult's charismatic leader who happens to be a unicorn and the odious and somewhat familiar Nicholas Gryphon.
This is the first of three reviews I'll be doing about anthropomorphic antics in comics. I've opted to do Bryan Talbot's Grandville first because we're still relatively close to Christmas (as the title suggests, it takes place around that time of year) and because Talbot already has an excellent track record with these books, meaning you're quite possibly already aware of them or, if not, they're readily accessible to you if you choose to start from the beginning. Regardless of whether you've discovered them before or are entirely new to the Grandville books, they are undoubtedly some of the most creative and exciting stories being created in British comics today and so deserve your attention.
And if you liked that: Check out some of the earlier books, or try one of the other anthropomorphic delights in the upcoming two reviews